The other day I thanked MetaFilter member,
PeterMcDermott,
for
recommending the book
by Mitchell Duneier,
Sidewalk
, about book vendors in the Village. I just bought the book using a generous Amazon gift certificate
madamjujujive
gave me for my last birthday and wrote to let Peter know. He asked me the following questions:
always wondered how the street vendor thing w
orked -- and how
i
t managed to sustain such apparent complexity.

Do people really buy
those old magazines, for example?

Where do the screenplay guys come from?

And how does the book thing work? Shoplifted? Review copies? Remainders?
When I realized that you were a street vendor, I started thinking
about it even more. What does she sell? Fake designer handbags? Her own jewellry designs? T
-shirts? Books?

And how do you get a pitch? Do you have to pay protection money? Deal with police harrassment?
And I don't know how *anybody* can afford to live in New York any more. It's so expensive now. Even people on decent middle class salaries seem to need wealthy parents to subsidize their rents.
Here it is, three cancer treatments (uterine, fallopian and thyroid cancers, two rare, two late stage), four aneurysms and a brain surgery later than when I started this blog in 2005. Since I'm still alive, kicking and feeling quite a bit better, I thought I'd reply here with more than anyone ever wanted to know about street vending in NYC:
New York is a complex city and the street vending here reflects that.
A few of the many types of street vendor licenses (2004 figures for the licenses issued):
There is a special license for
General Vendors
selling items that are not food, not books, not photographs or painting. 853 licenses issued.
There is another special license for
Food Vendors
. 3000 licenses issued.
There is no license for
people selli
ng books, photographs or paintings
but a
New York State Sales Tax Resale Number
(
Certificate of Authority
) is required and two pieces of ID.
Army veterans
get a special license to sell on the street. 1034 licenses issued
.

Disabl
ed Ar
my veterans
get the very best vendor license and are permitted to sell on any avenue, where the major money is.
374
licenses issued.

Flea Markets and Street Fairs require a temporary outdoor vending license
, which anyone can apply for, applicable only to that place and time.
Park Vendors
. 600 licenses issued.
Pushcart Wars
, an informative article by Joshua Brustein in 2004
There are other licenses for outdoor professions like bicycle rickshaw drivers, horse-drawn carriage drivers, stoop vendors, hawkers.
The Food Cart Song
Under the United States Constitution, Bill of Rights, First Amendment, Freedom of Speech,
books and art are allowed to be sold on the street without a permit
. There are laws regulating where and how books may be sold. They must be displayed on a table, not obstructing pedestrian traffic, not blocking doorways for example.
Yes, people really do buy those old magazines. Those guys generally work for a well-known ephemera collector, a really sweet guy I've had the good fortune to do business with, named Mike Gallagher of
Gallagher Paper Collectibles
, now a nice website,
VintageMagazin
es
.com
Since screenplays are basically a kind of book, they can also be sold under the freedom of speech regulation. I have no idea where they screenplay guys come from. Maybe one will leave a comment and the mystery will be solved?
When I've sold books on the street people who lived in the neighborhood dropped their second-hand books off with me in shopping bags for free. They just didn't want to throw books out and were hoping a vendor would turn up so they could be given away. Building supers would come and give me boxes of books left in their basement from tenants who left or died. 1000's of books. Many of the books are almost as new, many hardcover, plenty of vintage ones and first editions. To the best of my knowledge, nothing I received or sold was stolen. Occasionally a homeless guy would stop by and ask if I wanted shoplifted books, which is against my principles, or reviewer copies. I don't know where they got them. One homeless man who worked with me and gave me stuff to vend, Ted, found boxes of cassette tapes and music CDs in the garbage near the ABC studio.
One of the interesting things I learned about book vending in NYC is that black American men buy
a lot
of books about black culture. Any book about black American history flies off the table.
The most interesting book vendor I know and without any doubt the most knowledgeable person I've ever met in my life on any continent is a journalist from Cameroon, named Stephen Tebid. He sold for about ten years on the corner of 49th Street and Ninth Avenue near Seven Brothers Deli. He's in the real estate business now. He had some extraordinary street vending stories and was a wonderful community activist when he was working here in Hell's Kitchen.
As for what do I sell or have sold? First in 1985 I sold samples of clothing I helped make in India, when I worked for four years for a New York fashion designer by the name of
Paul Ropp
who now works out of Bali. I sold the samples on Astor Place, then 4th Street and Sixth Avenue. They sold so well I realized that street vending was an excellent way to make a living. The samples cost me $4. and I sold them for $25.
Then from 1986 I sold contemporary West African art, textiles, domestic furniture, bronzes for five years by the Museum of Modern Art.
Photo Credit Vanessa Moore
Then West African art plus folk art paintings from North India. Then
malachite
jewelry and sculpture from the Congo.
A brief stint of selling butterfly wing art from West Africa, which I stopped, feeling bad for the butterflies.
©
photo by Paul Caparatta
Then hundreds of different variations of beautifully detailed pewter pins from Rhode Island.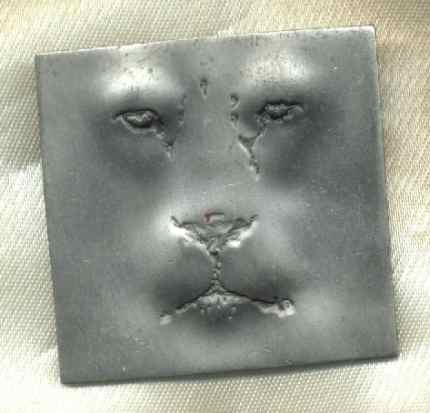 Then fun watch prototypes.
Then sterling silver jewelry, vintage stuff, books, pashmina-style shawls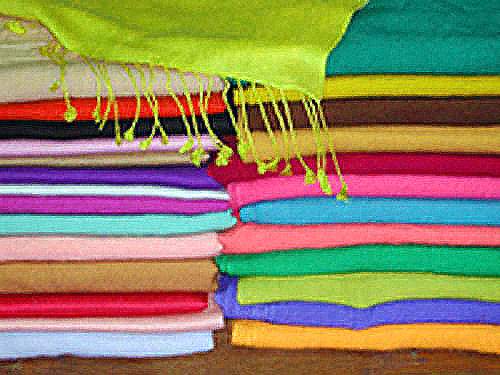 .
Most recently, turquoise, coral, freshwater pearl and semi-precious stone jewelry.
No fake anything.
About financial survival. I moved to Hell's Kitchen in 1987 because the rent for a one bedroom was $581. a month. For 5-1/2 years I worked as a building super for two buildings, 40 apartments, where I live, rent free, and got to use the basements as a vending storage space. I've been working almost a decade part-time at a small Korean jewelry company, doing their business writing, selling and advertising copy-writing. They offer me the medical insurance that kept me alive.
Some years I've taught English as a second language, done business estimate writing for a Montenegran building contractor, had a mail-order business, designed a collection of clothes to be manufactured in India, worked part-time as a quality control consultant in a garment company on Seventh Avenue, offered instruction professionally to people who were having a hard time dealing with a pathological narcissist in their workplace or personal lives. A typical New Yorker really.
But when I was diagnosed with cancer all my savings went. And that's when it has been the hardest as a street vendor. I was too weak or ill to work the last three years.
Twenty two years ago it was possible to get a license from the
Department of Consumer Affairs
. Just 853 were issued but one had to wait for one's number to be called up. It might take years and one would never know when that day would come. Then they closed off the list and now only people who have been in the US Army can apply for a license.
There is a booklet handed out when one gets the license about which streets are restricted for vending. A lot of the city is restricted by newly formed business districts, which don't want any competition from street vendors for the stores that pay exorbitant rent. However, the stores make the mistake of thinking that vendors decrease store sales. Street vendors increase sales in stores because they increase foot traffic of all kinds, create an atmosphere of energetic commerce and and increase tourist presence.
Once a book, art or general vendor has repeatedly turned up at a spot there is an unwritten vendor understanding that it is that vendor's "spot" and no other vendor takes "that spot".
However, for food vendors
there may be a huge, illegal, price to pay for a spot
. From what I've heard, the Central Park Administration sells food vendor spots for $100,000 plus a year.
There is a specific undercover police force for vendors, the vendor task force, otherwise known as "Alpha". This is because the vendor police used to cruise around camouflaged in furniture trucks labeled "Alpha" on the side. They've been known as Alpha ever since. The Alpha are a serious bunch of cops. There is a long history of harassment by the police of street vendors.
A single ticket issued by Alpha can be $1000
. These officers come up to the table unannounced in street clothes, flash their badge, ask for one's license and run it through the computer in their van or car to see if it's real.
Uniformed police usually are not informed of the rules about street vendors and can also make it difficult for vendors. Being diplomatic, prepared, informed and savvy are all needed to be successful as a street vendor in dealing with the police, which can be a source of a lot of anxiety.
A person caught without a license is usually arrested, sometimes just ticketed. If the vendor task force takes pity on that vendor, as they did with
Joe Ades
the peeler vendor, the illegal vendor usually spends a couple of hours at the police precinct getting finger printed and ticketed. A not so happy Alpha cop may put the illegal vendor in
The Tombs
prison for three days.
Another blog post to write will include descriptions of fellow vendors, the ingenious portable, compact but inviting
displays
of all kinds vendors need to think up, pictures of my own displays and how I found my spot.
Street Vendor.org
From
their links page
:
Historic Vendor Images
NY Public Library's archive of historic drawings and photographs of street vendors.